Hello Friends,
Thank you for your support of this ministry that makes it possible to serve this vulnerable population and to demonstrate God's love in pursuit of our mission. I am excited to be a part of Grace In Action and to collaborate with you all. A little about me- I am the proud parent of a 13 year-old son, Ethan; and I love doing touristy things and taking day trips.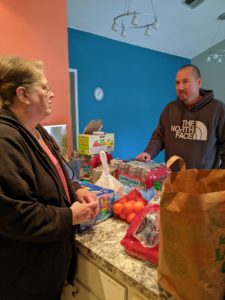 My favorite verses as an initial new believer were Proverbs 3:5-8 (ESV):
Trust in the Lord with all your heart, and do not lean on your own understanding. In all your ways acknowledge Him and He will make straight your paths. Be not wise in your own eyes; fear the Lord and turn away from evil. It will be healing to your flesh and refreshment to your bones.
These verses always serve to remind me that Christ is the center. And to truly experience, understand, and express love – we have to be connected to the One who first showed us love.
This is where I believe Grace In Action has such an ability to be impactful in a force-multiplying way that a social service agency may not – because we have the ability to point an individual to the One who truly can transform and change. Those in fellowship understand the impact of His grace, mercy, and love because we are recipients of it. And because of it, we want to share with those who may not know… or may need reminding… that God is always good in every season.
How we fill that gap within Yolo County and work with our collaborating partners is something I am excited to be exploring with you all. I am not interested in transforming Grace In Action into something that is divergent from its established identity or mission. I look to strengthen our local partnerships and work with you all to find innovative ways to deeper connect with this community to express God's grace and love – however and wherever we can. Thank you for all your support and I look forward to an exciting season together!
Sincerely,
Edward Johnson